The Hybrids will Attack Sepang next Sunday! (May 20th) – We've just added a new, all green and eco Sports Hybrid Class within the TIMETOATTACK 2012. Recognizing the recent increase in Hybrid ownership, especially with the inception of the new Honda CR-Z taking hybrid performance to the next level, we feel it's about time they get their own segment in motorsports.
This is also a Green initiative by TIMETOATTACK to do a part for the environment, while nurturing the idea of hybrids as a viable performance motorsports weapon in the near future. So how will the Hybrids fare in Sepang against the already perfected petrol-only diet machines? This is something we'd like every car nut to experience. So Make your way to Sepang next Sunday for TIMETOATTACK!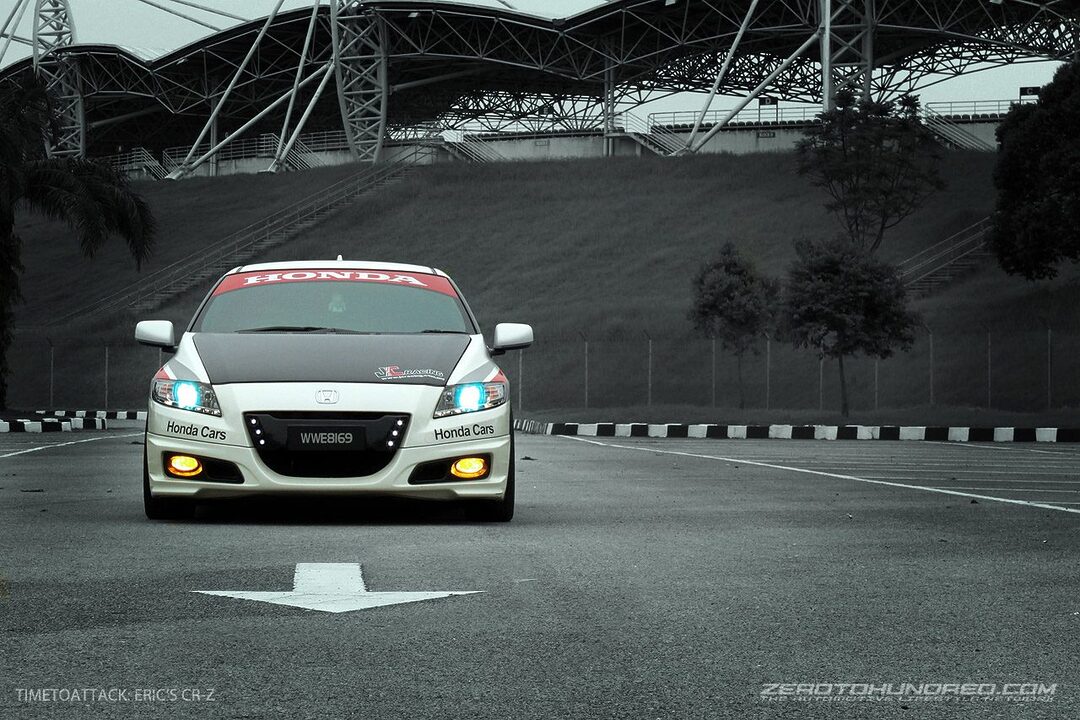 This brings us to Eric's TIMETOATTACK-Ready CR-Z. Starting life as a factory CR-Z just a couple of months ago, he's making steady progress turning the CR-Z into a track tool that will not only be formidable within the hybrid fraternity but even give the bigger boys a good run for their petrol money.
Eric's CR-Z Specifications:
Spoon CF bonnet
Spoon throttle body
Spoon intake plenum
Spoon brake line
J's racing drop in Air Filter
J's racing exhaust
Blitz suspension
Cusco front strut bar
Volk Racing CE28 wheels
Coming soon:
Hondata ECU
Spoon final drive
Spoon LSD
What immediately sets this baby hybrid sports car apart from the rest are the details on the outside. You'd notice the striking splashes of race-inspired livery that just seem to go with the entire flow of the car extremely well. Even if the CR-Z won't do the zerotohundred in 3 seconds, it'll at least do that standing still. What lies beneath the decals are a set of Mugen bodykit. Giving it a lower, more pronounced chin, bolder rear end, with an addition of a rear wing.
The CR-Z as a factory base is already a wet-dream of most men, what more this one. Eric has swapped the suspension out, not with lowering springs, but a set of serious Blitz adjustable coilovers, further confirming the purpose of his CR-Z. This sorts out the feminine handling characteristics of the factory CR-Z and also gives it that needed squat and low-stance aesthetics.
I can certainly say this is the sort of feel the CR-Z would benefit from having driven it while producing this feature. It gives the car that much needed edge in redeeming the lack of power with much improved, dynamic driving feel. In a way this also save precious energy in engine fuel usage and electrical energy stored by having to shave less speed going through the corners. Finally, aftermarket products can now help save the world.
Now how serious is Eric with his CR-Z? Dead Serious. (Above) The awe inspiring body has more to offer. Pop the rear boot open and the scene unfolds into a jaw-dropping view of a fully stripped interior. The weight savings effort gained from an already feather-light 1140kg CR-Z would deem worthwhile logically. How much performance does this translate to? Maybe marginal and even psychological.
Who cares. As long as it feels like track car, it's all good. And it certainly feels like one now. Pebbles and debris ricocheting of the tyres hitting the tyre well resonates through the cockpit. Eric also sits snugly in a Bride bucket, taking advantage of all the features he's either taken out or added in. No more swimming around in the stock CR-Z chair. All for a good drama.
So in essence, Eric has brought this new-girl-on-the-block down to her knees, botoxified her lip, gave her new buttocks and even stripped her tattooed body bare naked, all for a good and hard ride. Is she any better now? Oh yes. She is a lot more eager, agile in all directions and she is also loud, a lot louder.
Turn her on and you'd be greeted with typical Honda 4-banger moan. Work the revs and hear the seemingly K20-esque symphony through a J's Racing titanium exhaust. It sounds raw and raspy, a perfect compliment to the tune that is a Honda.
Now that she's stripped, There are a couple of things underneath, not many men have ever seen before with the velvet in the way. From the above image, you'd notice the centralized seating position of the battery where the spare tyre would normally sit in, complete with a high-voltage, do-not-mess-with-it-or-get-a-jolt warning sticker.
You would also notice a black plasticky cooling channel with an electric blower to cool the battery constantly. Yes, it blows constantly. There is also a brace that secures onto the vertical beams for chassis rigidity. Interesting. A spartan looking effort by Honda or many JDM manufacturers but it works.
Engine wise, anyone would be amazed by the free-er revving 1.5L. For starters, a J's Racing intake plenum adorns the bay, while it doesn't have the visual impact of a 4-throttle, the new intake plenum work physically well with a J's Racing drop-in filter through a larger Spoon throttle body.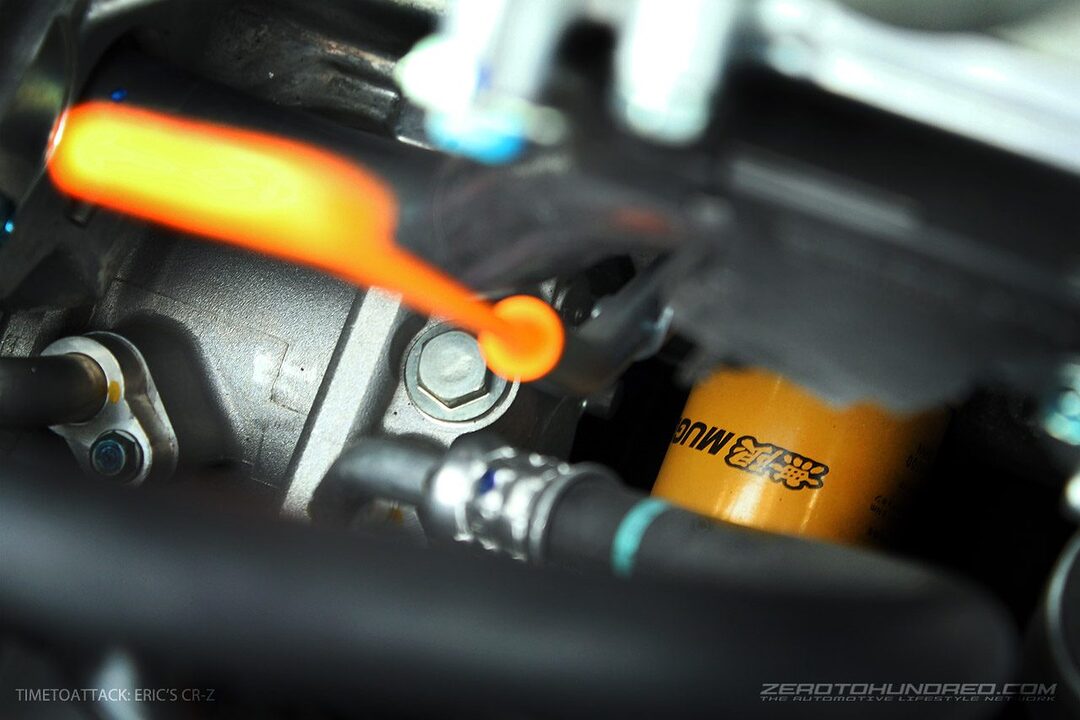 Other performance touches include a Mugen oil filter..
..and a Pivot Mega Raizin voltage stabilizer, now proving to be even more efficient for cars like the Hybrid in retaining a stabilized voltage. Every man want to keep his raisins.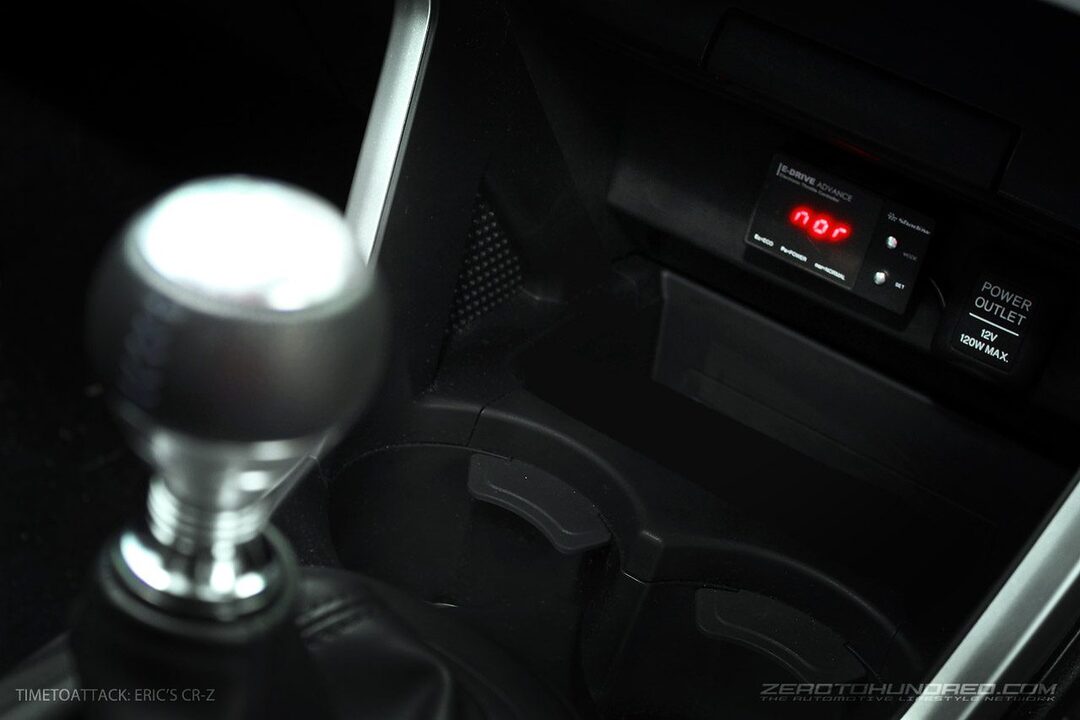 An electronic throttle controller may be a gimmick for manual cars and sometimes, even messes with a driver's footwork, but could come in handy for the CR-Z when doing all-out intense cardio workouts.
Asimo keep Eric company when he's driving and also serves as his personal g-sensor. Asimo is quick to indicate how much grip the CR-Z is generating when say, carving up the Genting touge route or attacking next Sunday's TIMETOATTACK.
I'm literally serious when I say we're supporting Green cars in this year at the TIMETOATTACK. What we're offering the Sports Hybrid this coming round on the 20th May:
RM50 discount for all Hybrids, bringing participation fees down from RM450 to RM400
Special Sports Hybrids Class Trophies
If you're a Hybrid owner looking to participate in the coming TIMETOATTACK, please head on over to TIME TO ATTACK! – 2012 for details and forms!