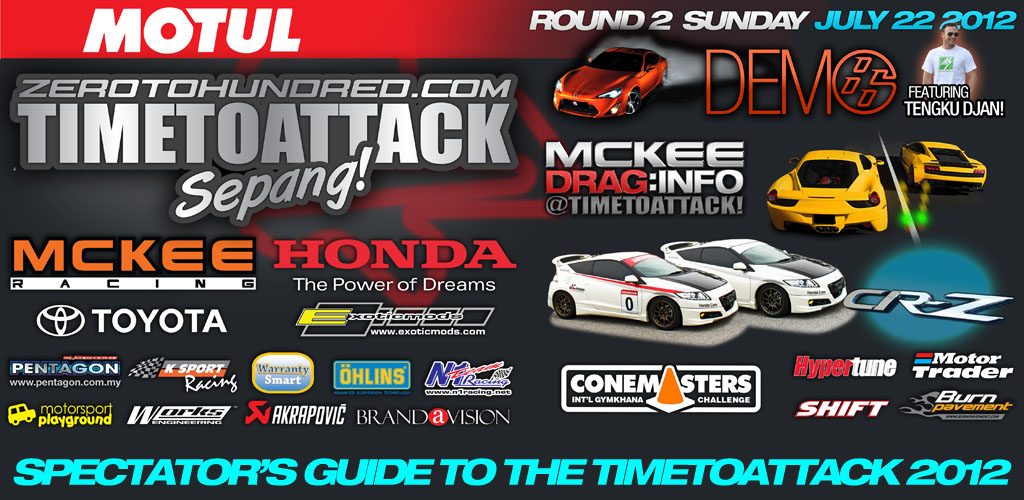 New to the TIMETOATTACK? Well, no worries. We hear your pleas. For at the TIMETOATTACK, it is a trip worth waiting for and chances are, it'll be your most memorable track event ever, we at Zerotohundred.com had compiled a simple and straightforward Spectator's Guide for you to know exactly what happens where and when!
OFFICIAL VIDEO OF THE TIMETOATTACK ROUND 1 2012
TIMETOATTACK 2012 ROUND 1 – SEPANG [Extended Cut] – YouTube
PREPARATION
Basically, you are free to wear anything you want, but we do recommend wearing something sporty. Shoes are highly recommended. We discourage the use of slippers, flip-flops as Sepang isn't a beach but a motorsports arena. Caps/hats and shades are recommended, and some sun screen could come in handy in case you are not keen on having sun-burns.
GETTING THERE
Follow the route to KLIA/LCCT and you will not miss the Sepang International Circuit along the away. Just watch out closely for the signs. Instead of taking the main entrance like other major events, take a left at the traffic lights if you are coming from KL into Jalan Kuarters KLIA, followed by a right turn into the paddock entrance. Why not the main entrance, if you ask? That is because TIMETOATTACK give spectators a privilege to gain access into the pit areas and a first-hand experience of what is happening behind the scenes! Just try to be aware of your surroundings as it can be busy.
Get up-close with the ferocious machines and their brave tamers in the pits, or even a spectacular vantage point from the paddock roofs or from the pit lanes! Something a spectator never gets in other international race events. TIMETOATTACK will definitely bring a whole new experience to speed-loving enthusiasts not found anywhere else in Malaysia.
LINED-UP EVENTS:
NEVERLAND KL JAPANESE THEME NIGHT X TIMETOATTACK PRE-PARTY!
Even before the arrival of the race day itself, the fun has already begun with the TIMETOATTACK Pre-Party X Neverland Japanese Theme Night at Club Neverland KL on the 21st July from 10pm. And if you are one of the participants, here is a piece of good news as you are cordially invited to this party! There will be a free-flow of drinks for all and also an exclusive screening of our TIMETOATTACK video. But if those still does not fit your bill, then the appearance of the electrifying and sexy DJ Roxy June will surely do the job as she will also be in the house with her rocking beats and seductive looks! And to top it off, all invites also stand a chance in winning tickets for 2 to Tokyo.
TRACK DAY
Of course, with the main highlight being the lightning-fast machines going around Sepang with the aim of hunting down every excess millisecond that they could find, we also have a lot more in store! And the action starts early in the morning with a Track Day Session, that features track junkies from all over, and from across the causeway too!
CONEMASTERS
But if you are more into the current gymkhana trend popularized by none other than Mr. Ken Block himself, Then you'd be excited to know there's an Gymkhana segment brought to you by the guys at Conemasters with their International Gymkhana Challenge 2012. Expect cars like the AWD Impreza and RWD MR-S fighting against time to sort out who has the fancier footwork in completing the course within the quickest time possible.
MCKEE TIMETOATTACK DRAG
Drag fans or supercar lovers are also in for a treat with what we have in store for Round 2. In the previous round, we had the McKee GT-R Drag Battle which saw a very impressive turn-up from not only the GT-R owners, but also from some present mega-horsepowered Prancing Horses and Charging Bulls. But in this coming Round 2, it is going to be more insane! Rather than an all-GTR battle like before, it is now the McKee TIMETOATTACK Hyperformance 400.
VIDEO OF THE SUPERCAR DRAG:
Supercar Drag Battle @ Time To Attack! 2012 – YouTube
Catch the diverse line-up of high displacement Supercars, GTs and even SUVs that includes the likes of Lamborghini, Ferrari, Porsche, BMW M, AMG on the makeshift drag strip at Sepang's main straights blasting their way to the finish line!
TOYOTA 86 DEMO FEATURING TENGKU DJAN
The hype surrounding the new Toyota 86 is just too intense and the Hyperformance 400 is not the only thing that spices up the day at Sepang's main straights this Sunday. Making a special appearance to the TIMETOATTACK is none other than our own Prince of Drift, Tengku Djan Ley who will no doubt put up a special show with the Toyota 86! Putting a world-class drifter into a great FR like the 86? One can only imagine what an eye-opener it would be. Just don't let the smoke get in your eyes!
HONDA CR-Z HYBRID TIMETOATTACK CLASS
Hybrid cars were once labeled as nothing close to being sporty, but that is just going to be a thing of the past. TIMETOATTACK features a new and special slot to prove that this is no longer true with the Honda Hybrid Showdown. With the fastest time of 02:57.797 recorded from a Honda CR-Z in the previous TIMETOATTACK Round 1, hybrids are now gaining a speedy pace in the world of competitive motorsports. Could any of the participating hybrids beat this green lap record? We will soon find out.
And with the spirit of the Ramadan season, we had also put a small-scale treat for our Muslim participants and friends with our very own breaking fast buffet. With scrumptious meals and thirst-quenching beverages served on the bar, everyone is welcomed to join in the feast as long as there's still food left! For the spirit of goodwill and friendship.
But that does not mean that there are no meals and drinks for the non-fasting. As usual at the TIMETOATTACK, we have booths serving food, snacks, desserts and drinks for a complete TIMETOATTACK experience. Just like how pop-corns and coke are to movie theaters!
All set? Then we will see you over at Sepang International Circuit this 22nd of July, and do tell your friends to join in the exhilaration and experience a unique weekend that can only be experienced at the TIMETOATTACK
2012 TIMETOATTACK TIMELINE
08:00 am – 11:00 am: Open Track Day
10:00 pm – 11:00 am: TTA Free Practice
11:00 am – 11:30am: TTA Driver's Briefing
11:30 am – 12:00pm: TTA Parade Lap
12:00 pm: Toyota 86 Demo by Tengku Djan 1
12:15 pm: MCKEE X TIMETOATTACK Drag 1
01:15 pm – 03:15 pm: TIMETOATTACK 1
03:15pm: Toyota 86 Demo by Tengku Djan 2
03:30 pm: MCKEE X TIMETOATTACK Drag 2
04:30 pm – 06:30 pm: TIMETOATTACK 2
06:45 pm: TIMETOATTACK Prize Presentation
07:00 pm: Buka Puasa Buffet!